War Chest: Owen Steal
Dink Flamingo
2018-04-18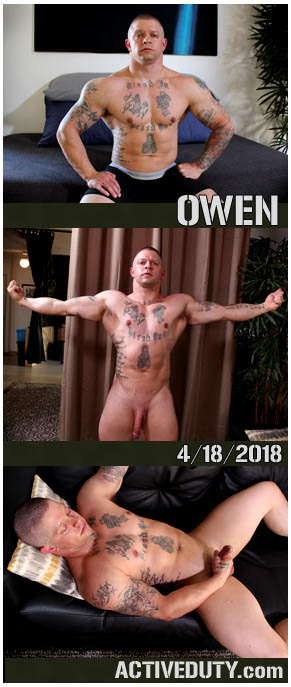 Hey Troops,
This week's new recruit is one big hunk of a man. Owen stands 5 feet 8 inches tall weighing in at 195lbs of pure muscle and at the prime age of 28. Owen is a gym rat if you couldn't tell and all he does is work work and work on his body. He hopes to compete in body building championships one day and by the looks of it he is going in the right direction.
Owens
tight little hole is super smooth
as he uses his fingers to rub it while he strokes his hard throbbing cock building up his
balls
for one amazing release. Don't let his size full you Owen is a big teddy bear and I'm sure one of our vets will be in his grasp in the coming months.
He loves to show off his
ripped body
giving the camera his best posture as he tugs on his hard cock. Owen is fired up and ready and was hoping he could have one of our vets with him but he has to go through our solo check and if you guys like him we will bring him back for some
hot man on man
action.
Owen barely makes a peep but the look on his face tells us that he is about to explode with one huge load and as Claude comes around to show us his full body sprawled out on our couch Owen lets loose one nice manly load all over his ripped inked chest.