War Chest: Phillip Fox
Dink Flamingo
2017-01-04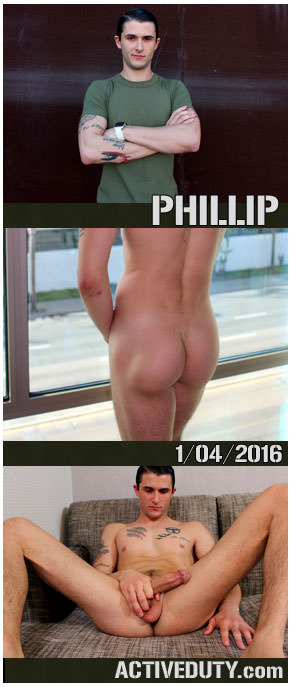 Hey Troops,
Feast your eyes on this
Italian Stallion
! His name is
Phillip Fox
and he's absolutely dreamy. Phillip has a classic, greaseresque style that I find so yummy. Hearing him chat with Claude, I can tell Phillip is a fun-loving dude with a good head on his shoulders.
Phillip gets right down to the fun, pulling off his shirt and letting his frisky hands run all over his body. Phillip is lean and well proportioned. He spends a lot of time in the gym and it certainly shows. He's just the type to be a versatile member of the squad. I hope he likes to flip flop and mix things up. But that's something we'll have to wait and see.
Claude gets tight to show us Phillip's
tightly contoured body
. His abs are spectacular and his skin tone just makes me wanna eat a meal off him. When Phillip gets down to his black briefs, with neon green trim, he sticks his hand down his pants and
fattens up his meat
. And when he pulls off those undies, we get introduced to a very healthy,
delicious-looking cock
.
Phillip gets things going while sitting on the couch,
jerking his hard dick
for us. Claude goes low and close so Phillip can look down at us while we look up, enjoying Phillip's wonderful balls and
cock being tugged
.
After some good warming up, Phillip flips over on the couch to show us his
scrumptious rear end
. Oh yes! It's bubbly, creamy smooth, and that hole is
tight and ready
. Claude gets some nice sweeping wide shots but, of course, gets in close to show us that hole. By the way Phillip shows of his ass, I can tell he enjoys being fucked. It's just a hunch, but I'm looking forward to being proven correct.
Then we have Phillip on his feet, continuing his
jerk session
. Claude gets a shot looking upwards so we can enjoy
ass, balls, hard dick
, and Phillip's face, all at once. What a hot view from the floor!
Phillip returns to the couch to finish off his work on that
gorgeous, oily cock
. Reclined and comfortable, Phillip shoots us devastating looks as he works toward an epic,
explosive finale
. This recruit is a fantastic addition to the team. He has a
traditionally handsome
look and such a unique style. He kind of looks like one of the Outsiders. I know Phillip will be a bit hit around the barracks here, so expect to see him returning very soon. In the meantime, stay gold!