War Chest: Poleski
Dink Flamingo
2017-12-13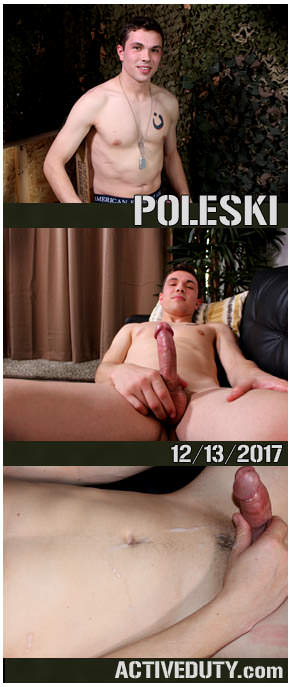 Hey Troops,
Poleski has dropped by for a short visit before he gets shipped off to a faraway land. This new recruit is only 23 and weighs 160lbs. When he is not at the gym with his friends Poleski is at home playing video games. He's an avid gamer with a network of friends that he competes with.
Poleski has a timid look to him as he introduces himself. He begins to feel more and more comfortable as he takes off his clothes. He wants to make sure he is doing everything right and even asks Claude if it's ok to use more lube which of course it is. This is a good kid having a great time.
He's got a great
veiny cock
that sticks straight up into the air with some amazing
smooth tasty balls
just waiting for some action. Poleski is as smooth as they come and he shows off his
young fit body
perfectly. He lets Claude pan around him showing us all his sexy attributes.
Poleski got so excited when he first started
jacking
for us that he came close to nutting but like a pro he eased up his strokes and balanced himself out to give us a very nice sexy show. His
cock throbs
directly in front of the camera wishing it had an eager mouth sucking deep.
His sexy balls are full and ready to explode as he strokes his throbbing cock a few more times releasing his built up nut all over his smooth young chest.