War Chest: Princeton Price
Dink Flamingo
2016-03-02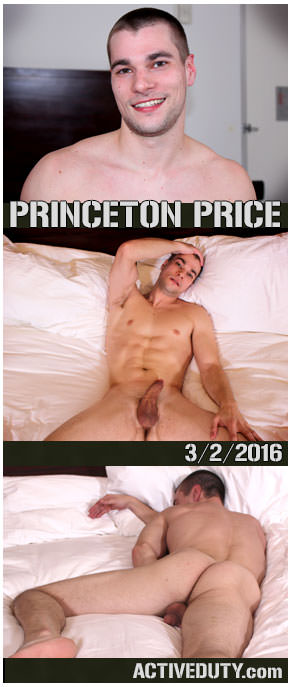 Hey Troops,
Now I know I have a tendency to get enthusiastic about
hot new recruits
from time to time, but GOLLY, you're all gonna salivate when you see this soldier! It's my proud pleasure to present
Princeton Price
. He's
perfectly plump
in the places picky people prefer. Seriously, this boy will be your new favorite right from the get go.
Claude sits him down and we learn just a tad about Princeton before he's left to get naked. He tells us that he's an outdoorsy type of guy, he likes photography, and, obviously, getting into the gym to work on that
incredible body
. Princeton is certainly a little bit nervous, but it's easy to see that he's the type of guy (like we've seen before) who loosens up quickly when he's having a good time.
In the first moments Princeton is by himself, we catch a glimpse of that magnetic, enchanting smile. Princeton has such a
gorgeous mouth
. He smiles when he means it, too. It lends to the feeling I have that Princeton is just a total natural. By the end of this here session, you'll know exactly what I mean!
When he finally pulls off his gray boxer shorts, we find out he's well equipped with a
nice cock
that's just starting to fatten up for us. Claude does a wonderful job of getting in tight, nice and early at this point, to show us Princeton's
tight, luxurious balls
.
From there, we have Princeton go up on his knees and get more intense with his tugging. He's so
sensuous
. As Claude shoots from a vantage point that looks downward on Princeton, we enjoy Princeton using one free hand to
touch himself all over
. He definitely loosened up RIGHT away! And we get more amazingly
sexy expressions
. One interesting thing I noticed here was that in front of Princeton, there seems to be a blanket or something, with a large round-edged rectangle on it. It's probably not intentionally placed, but I kept wondering if Claude had set up a target for Princeton to aim for hahaha!!
There's also an element of
aggressiveness
that we witness here. Princeton uses his strong grip to
squeeze his hard meat
and continue to jack the top part of his dick. It's something I really like and makes me wonder how much of that aggression would carry over if Princeton comes back to hook up with a fellow recruit...sorry, I should say WHEN he does!
After this, we have a location change, and see Princeton comfortably lounging on a long, stretched-out piece of red furniture. I like the feeling of seeing Princeton on this particular piece. It's an open feeling, but also a very relaxed one. There are no obstructions as Claude comes right underneath Princeton and shows us what it would be like to be looking up as Princeton stares down at us beneath his
swollen dick
, jerking, with his legs on either sides of our head.
And finally, we're back in bed with Princeton, getting to look down at his hand
furiously tugging his cock
. We get to imagine what it's like to be him, enjoying a nice stroke while being videotaped like this for the first time. It's enough to make Princeton
shoot a nice, thick load
, and Claude sure documents it well for our pleasure. Let's keep our eyes peeled for this
amazing dude
to come back and rock our worlds again. I know he's on my watch list!