War Chest: Quentin Gainz
Dink Flamingo
2017-11-22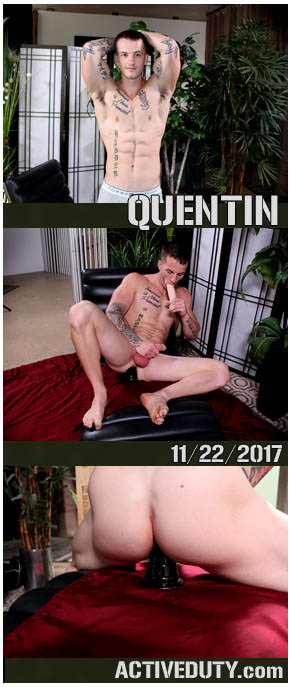 Hey Troops,
We decided to give you a
Thanksgiving special
and it's one for the books.
Quentin Gainz
is back all by himself just for you. It has been a few years since his last solo and we don't usually give vets another solo but we just couldn't resist. Quentin is always coming up with great ideas and his enthusiasm was the push forward. All of us here at AD hope you enjoy this very special moment on turkey day.
This is by no means like our usual solos. Quentin takes the reigns and shows all the new recruits out their how to pull off a solo the proper vet way. He begins by showing off his
rock solid body
. He has spent countless hours in the gym working on his physique and it looks like perfection. He really hopes you guys like the effort he has put in and we are sure you will.
Quentin shows off his
freshly shaved ass
by spreading his pink tight hole for us to see just how great of a job he has done and it looks amazing. He starts to play with his
cock and balls
slowly building up his throbbing dick. Once his cock is hard he strokes every inch of it while he grabs
his balls tight tugging
on them. He loves to squish his balls with his hands and Claude moves in real close to show us how purple they are turning.
He bends over and strokes his hard cock from the back while rubbing his hole with a finger and slowly pushing it in his ass getting ready for some toys. Quentin's
cock is very sexy and throbbing
with excitement as he is about to please that tight beautiful ass with some big toys.
Claude hands over the toys to Quentin that he chose personally and Quentin likes them big. Quentin reveals a nice
big dildo and a butt plug in the shape of a cone
. He sticks the dildo in his mouth wrapping his lips around it sucking every inch of it while staring directly at the camera. Quentin is by no means quite as he talks to us throughout the entire scene.
He slowly eases himself down on the
thick butt plug
and once it's in he starts to ride it while jacking his cock and
sucking on the dildo
. You can see Quentin enjoying himself and hearing the pleasure he is having with these amazing toys that he chose.
Sadly great things must come to an end but what an amazing end it was. Quentin can feel his
ass tighten up around the cone
as he strokes his dick a few more times building up his balls for a great release. After a few more strokes and the cone buried deep in his ass he cums all over the chair and the smile on his face is priceless. He may have nutted but the fun keeps going as Quentin invites us to take a shower with him as the scene comes to an end.