War Chest: RJ
Dink Flamingo
2018-02-28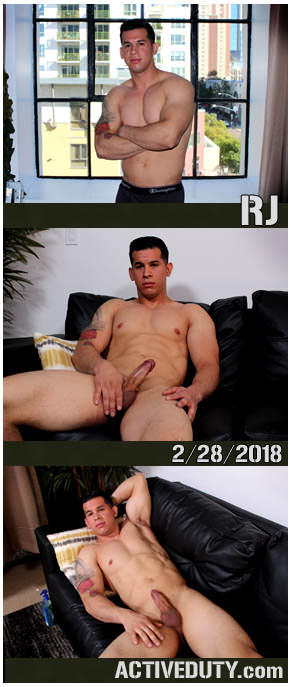 Hey Troops,
I know you are going to love RJ. He is sweet looking cutie with the entire Latin flavor ready to explode. He's only 25 standing at 5 feet 9 inches tall and weighing in at 165lbs of lean sexy muscle. When he's not on our couch you can find RJ hitting the slopes with his snowboard or at the gym working on his sexy smooth body.
RJ is an amazing kind man with a great attitude and that's what we love to see here at AD. We also love to see a man like RJ play with his
rock hard cock
for the enjoyment of others. RJ was timid at first but once he became comfortable he couldn't keep his hands off his own dick and was ready to blast a nut ASAP. We told this
sexy stud
there is no rush and enjoy every pull on your sexy dick and he took our advice perfectly.
This is one smooth man with only leg hair showing and some slight thigh hair but besides that you can slide right off this
sexy Latino
. He's got perfect hair and a body to match.
RJ has a great cock that he tugs on with good pace and his balls sit tightly under his shaft as he tugs and plays with them. He even shows off some of that
great body
of his. He puts lots of work in at the gym and it is paying off.
He loves to rub his precum all over the
tip of his cock
and then stroke it really fast. I really hope he comes back so we can see him in action with one of our vets.
Claude was in the perfect spot at the right time because right when he lined up his shot RJ was ready to explode and shit did he explode. He unleashed gobs and gobs of thick creamy cum all over his ripped smooth chest.