War Chest: Randon Rave
Dink Flamingo
2018-08-08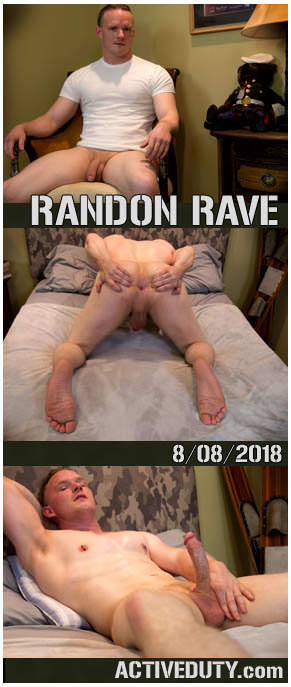 Hey Troops,
Today is a new day and that means a new recruit with a fresh new look. Randon is 28 years old and has been in the military for 8 long years and been deployed twice to hostile territory. When he's not risking his life or beating off on our couch Randon loves to watch and play football. He also likes to show off his body and that's why he has come here to show off his goods.
Our interview this time around is a little different and we have Dirk giving the interview so you might hear him throughout the scene coaching Randon. Dirk wants to see just how much Randon likes to show off and once he was told to take his shirt off he went all out and got naked for us. Randon tossed his clothes to the floor and begins to rub his limp cock so we can see every inch of it get hard.
Dirk has him move from the chair on to the bed where Randon
spreads his legs wide
for us revealing his full low
hanging balls
. He starts to rub his chest while
masturbating
and after a short while Dirk tells him to bend over and spread his soft ass for us.
Randon assumes the position and spreads his very
sexy pink hole
wide using both hands. He strokes his dick from behind and shows his
round firm ass
off before laying back down for some more stroking.
As we maneuver around the room watching Randon please himself we find a great side shot where you can see this soldier's
meaty veiny cock
. Its looks tasty and I hope one of our elites get a taste of this new recruit.
Randon calls out to Dirk making sure its ok for him to bust his nut and Dirk gives him the ok so Randon lets it fly and unleashes a built up load all over his smooth ripped chest.