War Chest: Rex Dixon
Dink Flamingo
2017-08-02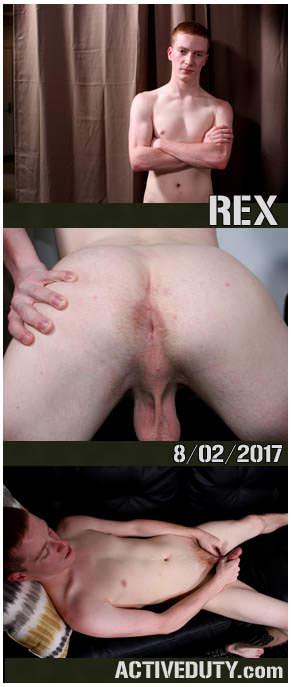 Hey Troops,
Today we have Rex visiting us. He's 21 5'8 weighs 145lbs and loves walking his dogs or going to car shows. He also loves going to gun ranges and testing out the many weapons he has keeping his tactical arsenal up to par. Hope you are ready for a very
sexy red headed
creamy young man with a great cock.
Claude gives us a beautiful view from underneath as we can almost taste his
balls hanging
right in front of the camera. Rex stares us down from that angle as he continues to stroke his hard dick.
Rex may seem a little nervous but we like the fact that he gets lost in the moment as he plays with his cock and tight hole and I'm sure he's thinking of a
big dick inside of him
. If he does come back I bet it will be a great scene to see him get fucked by one of our big dick vets.
He's a thin young man with smooth milky skin. Not a single tat on him and he's eager to show off for all the viewers. If you like gingers and some sexy freckles than you have to watch this kid stroke his dick until he
nuts
.
Finally Rex has built his balls up to where he cannot hold his big load in no longer and it begins to ooze out of his cock and then shoots up almost to his face. It's amazing how much cum can come out of a young buck like Rex.