War Chest: Ricardo Trujillo
Dink Flamingo
2017-04-26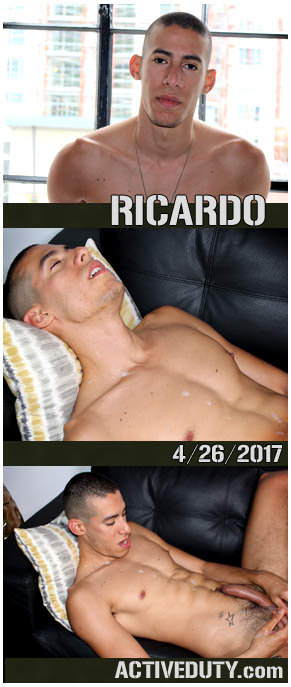 Hey Troops,
I hope you are ready for an extreme
tall glass of Ricardo
because we have a sexy Latino standing 6 foot 3 weighing 150lbs and a strong ripe young age of 29. Ricardo is an avid swimmer when he's not showing off his
big thick cock
and you can maybe see him running as well since he's always active and pushing his limits in any way possible.
Ricardo has very long sexy legs with
beautiful skin
to go with it. His physique is amazing because of all the swimming he is constantly doing. He's a quiet guy with a big thick cock and he loves to stroke it with his two big hands. He may seem nervous but he is far from that.
Claude goes deep into the trenches right between Ricardo's gorgeous legs. You can see how thick his shaft is with the amazing angle showing the details of this
sexy man's dick
. It takes two hands to stroke this shaft pushing all the
blood into every vein possible
. He strokes slowly and ups the speed as he gets closer to his climax which is a big surprise.
Ricardo has come a long way to show off his goods and he doesn't disappoint as his moans reveal that his cum is just about to ooze out his sexy dick. With just a couple more strokes of his shaft he comes to a complete stop in his tracks and all of a sudden his sweet main juice oozes out the
tip of his dick
as it resembles a fierce volcano. Just when you think he is done cumming he somehow reloads and bam with a few more strokes he shoots a
long stream of cum
multiple times covering himself all over.
In the end Claude zooms in and reveals all the cum drenched on Ricardo as you see it covered on his hands, chest and legs.