War Chest: Richard Buldger
Dink Flamingo
2017-02-22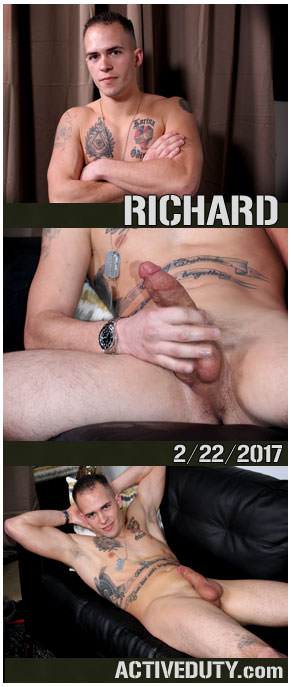 Hey Troops,
This handsome young man goes by the name of
Richard Buldger
. Chatting with Claude, he seems just a tad nervous, but in the good way. Something about Richard tells me he's an adventure seeker who craves new experience. Hey, he wouldn't be here in the first place otherwise!
Once Claude lets him get down to the fun, Richard doesn't waste any time stripping off his clothes and
oiling up his cock
. Once he settles in and gets comfy,
Richard's dick
wakes up very quick. I like a recruit who's ready to spring into action on short notice.
Richard relaxes on the couch, letting his hands run up and down his
slick boner
, displaying for us his impressive length and strength, sometimes beating his
hard cock
against his palm. By Richard's demeanor, I can tell he's a guy who knows how to
manipulate himself
in just the right way. It's a sign he's very in tune with his body -- certainly a sought-after quality around here.
From the couch, Richard stands up and Claude gets low to give us an upward view. Boy, Richard sure does have a lot of
meat
to work with!
Jerking his cock
slow, then hard, then slow again, Richard tugs down on his balls, showing us he does enjoy a little bit of aggressiveness with his pleasure.
From Richard's view, we enjoy a look at that fat,
swollen cock
in his hands. He has some seriously sexy thickness to that hog. I hope Richard will be daring enough to try and penetrate a fellow recruit with that
girthy beast
! Like I said, I think we have an adventurous soul on our hands and that means good times ahead.
Then it's back to the couch, where Richard hits his stride, really getting into the greasy fun of showing of his pulsating erection. He works up a faster pace as he reclines further back on the couch, tossing up black-socked foot on the couch. This opens his ass u a little more for us to have a teasing glimpse. Yum!
Claude gets a shot from high above our boy on the couch and we take in an excellent view. This is when I most noticed Richard's tattoos. His style and attitude give me the impression he's refined on the outside when he needs to be, but there's a wild, fun, crazy boy just under the surface.
If that hint of ass got your motor running while Richard was on the couch, the next shot is the payoff. Richard goes back to his feet and opens up his legs so Claude can get a perfect shot of those
sumptuous cheeks
from underneath. Oh yes, this is where it's at! Watching that
cock get stroked
while admiring that ass, along with Richard's sexy glances sends me through the roof! This soldier is dripping with potential.
After Claude does some more nice work, moving around behind Richard to give us a full view of that
plump, strong butt
, Richard lays fully back on the couch to pop his building load. You'll wanna stick around to see him blast his
thick cum
all over his stomach. I like this dude and I know the whole squad will be eagerly anticipating his return.