War Chest: Ricky Remmero
Dink Flamingo
2018-05-02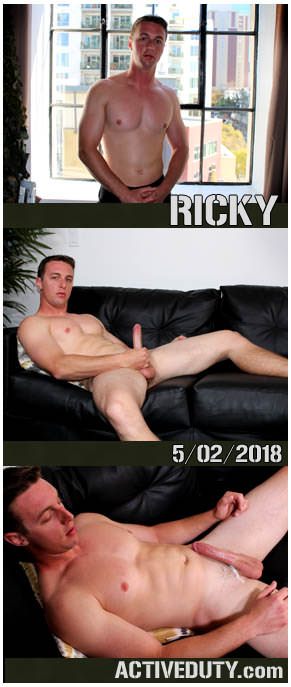 Hey Troops,
Our newest recruit is 24 years old standing 5 feet 11 inches and weighing in at 175lbs of lean sexy muscle. When Ricky isn't trying out to be the best he can be here at AD you can find him at the gym working on his body or on a local hiking trial keeping them calves fit and strong.
Ricky became comfortable quick on our coveted AD couch and once he lost himself in the moment his
long hard cock
is a sight to see. His skin is
milky smooth
and his chest is huge. His low
big hanging balls
are a mouth full and with his long firm thighs Ricky is a beautiful man to watch enjoy himself.
He loves to gaze into the cameras eyes as he
strokes every long inch of that throbbing cock
. Don't get too distracted by that cock because Ricky loves to rub that
wide firm chest
of his. Here at AD we think Ricky might just have what it takes to become a high ranking soldier but that is still in the future.
Ricky's
veiny cock
shows off all its glory when Claude goes in for an extreme close up giving us some amazing audio that moans from Ricky's mouth. You can see just comfortable this man has become since the start of the video as he falls into his rhythm.
Sadly but gladly that time has arrived as Ricky lets loose his thick load all over his cock giving out one last loud groan of release.