War Chest: Rico
Dink Flamingo
2018-01-31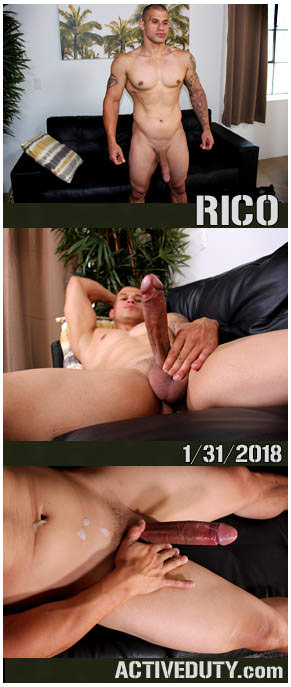 Hey Troops,
I hope you are ready for a beefy, big and well hung new recruit. Rico is 28 weighing in at 220lbs of pure masculinity. He spends lots of his time at the gym and when he isn't working on his body he likes to hit the beach for some runs and last but not least Rico is a very romantic person.
Once the opening interview is finished Rico stands up and reveals his
sexy body
by taking all his clothes off. His
big long uncut cock
flops right out and he sits on the couch and begins working his cock up. He only has a few tattoos and his body looks amazingly smooth. He strokes his long cock slowly as it continues to grow showing us every beautiful inch.
Rico stands up to beat his dick some more and it shows us how big of a man he really his. His calves are huge as well as just about everything on his built body.
Rico gets lost in the moment and begins stroke his huge cock faster and faster all the way up and down his
uncut shaft
until he shoots his huge creamy load all over his chest and some of it ends up on his sexy cock which he uses the left over cum as lube.