War Chest: Ripley Grey
Dink Flamingo
2016-11-23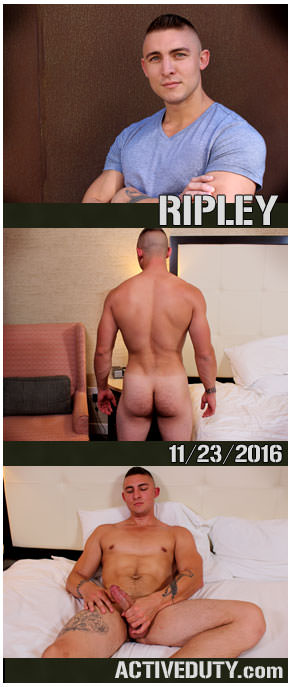 Hey Troops,
Believe it or not, this gentleman's name is Ripley and he has a
fantastic cock
. He's a strong, silent type and there's a whole of intrigue here. Claude has a quick chat with him and we really get a sense of his
power
, simmering just below his stoic exterior.
With his clothing on, Ripley looks like he has an
incredible body
. And once he takes off those layers, we see that was a good bet. He's thick in all the right places. Ripley starts out by peeling off his black undies and
fattening up that girthy dick
. Claude takes the opportunity to get low and close. I very much like Ripley's tattoos, particularly on his wrist. He's a very
handsome
dude and his physique complements his steely eyes and strong persona so well.
When Claude moves up into a POV shot,
Ripley's cock
comes alive. Wow, he could suuuure do some damage with that. I'm excited to see Ripley mix it up with a fellow recruit.
Next, we get a view of Ripley from above. Notice how much he enjoys playing with his
nipples
. This tells me Ripley is a sensuous creature who understands the balance between
power and subtlety
. He has potential to be an absolutely wonderful fit for our squad.
Ripley goes to his feet and Claude creeps down low and tight. Boy, Ripley is just a
perfect male specimen
. If you love the consummate serviceman look, THIS is certainly it. The haircut, the thick chest, the strong hands, Ripley is the man. Looking at those legs, it's easy to imagine the work they could do,
pounding that stiff cock
in and out of a hungry ass. Oh yes, this recruit is just dripping with potential. Claude goes in very close to give a look at
Ripley's ass
. Looks good enough to eat!
And finally he's back on the bed, jerking that
beautiful dick
until it explodes. Ripley goes for it in the end, turning up the intensity knob just enough to show us he can. There's always room here at AD for a powerful dude like Ripley. Let's keep our eyes peeled for his return, and look forward to seeing that solid power put to some good use!