War Chest: Rix
Dink Flamingo
2017-03-29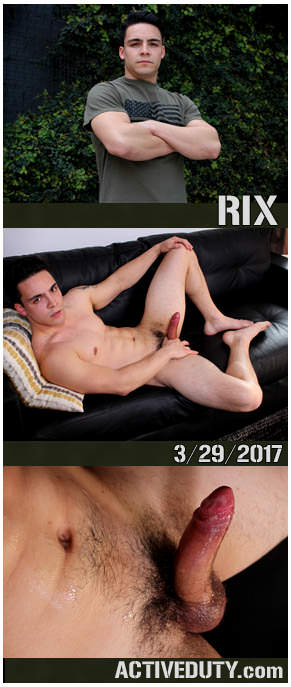 Hey Troops,
We have a sexy new recruit today with a fat meaty cock that is begging for some extra solider attention but first Rix has to pass our solo boot camp to see if he can make it to the next phase in becoming a true Active Duty soldier. Rix is 22 standing 5 feet 10 inches and weighing 165lbs of pure sexiness. He's musically talented and uses his skills on the guitar. Just like any other man he likes to have a cold adult beverage and when he's not rubbing his nut out for our viewers he's off sparing with his friends.

Rix makes himself comfortable and begins to disrobe revealing his thick sexy cock. He starts to rub himself waking up the thick beast from its slumber with each slow stroke. Claude moves in real close to show the thickness of his dick and you can hear the squishy sound Rix's dick makes as he tugs back and forth on it.

Rix finally lets himself loose in the moment as his mind focuses on his big dick. Standing tall you can see his balls in perfect formation cupped and ready for a wet tongue. Claude gets a great angle from high above revealing Rix's sexy manicured body in all its glory.

Rix has such a tight grip on his dick you can hear each stroke with his subtle moans. I wonder if he's thinking of sparing with his friends as he strokes his dick. Hopefully when he spars with his friends they are all naked. Maybe if we can get him back he'll spar with one of our veterans AD style.

Finally Rix gives the call to Claude that his load is about to shoot out so in Claude fashion he moves in for a shot just over Rix shoulder and the cum shoots out onto Rix chest in thick creamy gobs oozing from his head and down his now empty balls.

Don't forget to watch the ending interview about how it was for his first time being on camera and I'm sure we will be seeing more of Rix in the near future.