War Chest: Rocke
Dink Flamingo
2016-10-12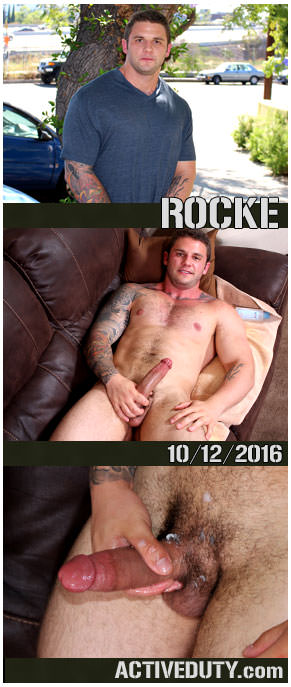 Hey Troops,
Meet
Rocke
(pronounced "Rock")! He's braaaaand new and we got him! We haven't seen a
fresh
recruit like Rocke in a while and I was gettin' bit hungry for
big muscles
and
sleeve tattoos
! Boy, what a handsome guy and he really seems like a sweet dude too. It's easy to see he was a bit nervous from the start. Claude chats with him a little bit and we can sense his reticence. Can ya blame him? He's never stripped down and stroked his
big, beautiful cock
on camera before this! I'm excited to have him with us.
Rocke is just delicious. I couldn't wait to see him shirtless, and of course, eventually totally naked, but I could just tell Rocke was gonna look absolutely amazing once he had all the goods on display. And indeed, my prediction was spot on. Rocke is bound by
thick muscles
all over his body and endowed with a seriously
amazing dick
! He has just a perfect amount of hair on his chest. And I love his
nipples
! Yum, they're so well-proportioned to his chest.
Once Rocke gets comfy enough to really work up a healthy,
throbbing erection
, Claude moves in close as Rocke enjoys his boner on the couch. You know those type of hands on a guy like this? You know what I mean, they're a little rough, but not too greasy, definitely strong, and
incredibly manly
? Rocke has the definition of those hands! And boy, they sure do look great gripping that
stiff cock
!
Rocke stands up to show us the rest of the package. Claude gets in tight, right underneath to let us see just how tasty those balls are. Oh yes, I love the way Rocke strokes. He likes to
tug his nuts
with just enough aggression, and peeks around his girthy dick at us every so often to let us know he likes that we're watching.
Then it's back to the couch where Rocke takes a more reclined position. Now he's in a comfortable rhythm,
jerking that oily beast
and letting the ecstatic sensation take him to a sensuous realm. Claude gets up high to give us a great shot of Rocke's perfect physique. Then he gets down low for one of my favorite moments. He gets nice and tight on
Rocke's ass and balls
while Rocke applies a
firm grip
and authoritative stroke to that
naughty boner
.
Finally, Rocke explodes with
warm cum
all over himself. Wow, it sure does look like he effectively restrained himself for QUITE a good while, just for us. I told ya he seemed like a sweetie! I just hope we have the pleasure of seeing Rocke come back and grace us again soon. I know he'd be a massive smash hit among the rest of the squad.