War Chest: Roman Eros
Dink Flamingo
2018-09-26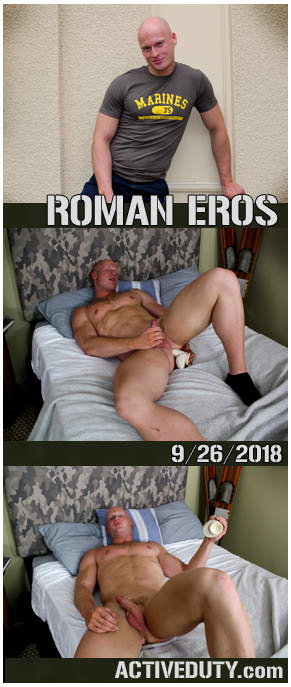 Hey Troops,
Roman is from beautiful San Diego California and he has been a Marine for 6 years. He loves all kinds of sports but loves Football the most and some laps in the swimming pool. He's here at AD exploring his sexual desires and needs.
Dirk breaks it down with our new soldier making him comfortable in all ways possible. Roman is a very nice guy with a great laugh. He is upbeat and ready to have fun. Dirk lets him go at it after the interview and Roman wastes no time in dropping his clothes and
stroking his hard cock
.
Dirk tells Roman to get up on the bed and bend that sweet ass over so we can see all the goods. Roman bends over and spreads his legs wide still fucking himself with the dildo. Roman is up for anything and we think some of our elites would love to be that big dildo deep in his ass.
Roman flips back over on to his back and continues to stroke his hard cock with that dildo buried deep in his ass. He is so turned on having that thick dildo in his ass that he can't hold his nut back and he groans loudly with pleasure as he lets his thick nut loose all over himself.