War Chest: Ron
Dink Flamingo
2015-06-24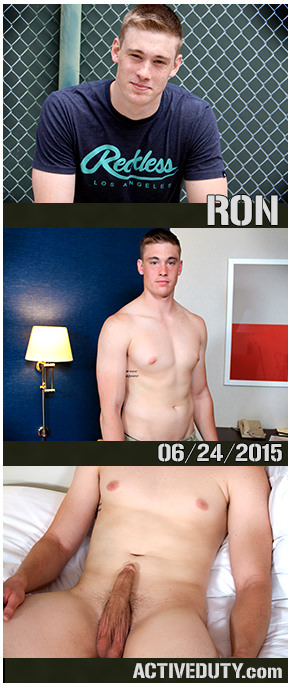 Ron is a tall, very
handsome young man
who has just finished Coast Guard boot camp. It's obvious from his demeanor he's a respectful, courteous guy. At 19-years-old, this is Ron's first time jerking his dick on camera, but even before he's out of the gates, he's looking forward to possible future Active Duty performances.
Ron is one of the first of Claude's brand new recruits to come through, so both guys are using this experience to learn and get more comfortable. Claude has been working hard, keeping an eagle eye out for fresh new talent, as well as persuading old favorites to report for further duty. So far, he's been an excellent man on the front lines, and we can expect to soon enjoy some boner-inducing eye candy. I was lucky to make a phone call just in time to catch Ron right before he pulled out his cock. And indeed, Ron was even more handsome than I imagined. His
cute freckles
match his beautiful red hair and serve to give him that all-American football star look that really gets my dick hard. Ron's
nice, thick erection
was ready to go from the jump. This solo is a must-see for ball lovers. Ron is set with a gorgeous pair that dance under his hand as he tugs his thick erection. Enjoy Ron's debut as he shows Claude and the rest of us what a fresh, Coast Guard recruit can do!