War Chest: Rush
Dink Flamingo
2015-05-20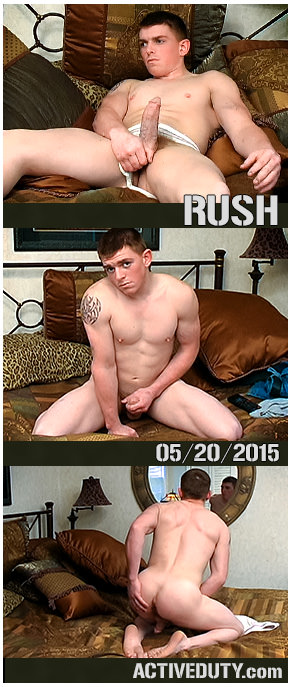 Hey Troops,
We're hopping back in my Hot Stud Time Machine for another War Chest Wednesday, to unveil another previously unreleased solo from Active Duty's illustrious past. This week it's someone you may remember, if you've kept a close eye on our recruits over the years and/or have a thing for redheads.
Rush
was only ever in one scene back in the day,
a fuckin' hot fourway with Zane, Pratt and Jordan Sage
back in 2003.
Zane
and
Jordan Sage
were our big-boy talent for the scene, while
Rush
and
Pratt
were pretty much newbies. It's a really great scene fueled by 2 high school buddies' "what-if" fantasies, so definitely check it out if you wanna see Rush
takin' his first dick wih eagerness and excitement
, but today we're giving you a look at
Rush
's first introduction to the camera.
I kinda freaked him out when I first ran into him, because he was in the parking lot and I was so impressed with his looks from a distance away that I spun my car around and drove back just to talk to him. But he said he liked it because it's not every day he gets that kind of attention -- what
hot young jock
doesn't like a bit of ego boosting now and then?
Rush is from Dallas, Texas, and he's 24 years old in this video. He's 5'6" and 187 pounds, which is pretty heavy for a guy who's so short, but that just means he's
packin' himself in tight
which I think we can all appreciate! He's a bit of an extreme guy, and says that his hobbies are "anything I could die doing". Dear lord! Well, I know one thing he likes to do that's a little bit safer than that, and it's tug on the big trouser-snake between his legs, so we move things right along so he can get to it.
"I'll show you my fat ass," he smirks
as he takes off his beater, but let me assure you there ain't NOTHING fat about Rush except for his thick shaft. Rush dressed to impress, wearing an athletic jockstrap which is something you don't see on our guys all too often, but it's great for leaving even less to our imaginations as we watch him stroke himself up to a stiffy. When he peels them off his thick calves he gives us a bit of a show, sticking his legs straight up and teasing his hole to the camera. I wonder if he knew that it wouldn't be long before
that hole was gonna get its first on-camera stuffing
.
Some of the guys wanna just sit there and beat it but others like to play with the camera a bit, and
Rush looks straight into it with those puppy-dog eyes
of his as he pleasures himself and breathing heavily. He's certainly a fan of showing off, as he flexes and spreads his cheeks for the camera, and you can see he even sneaks a few peeks of himself in the mirror --
the guy loves how he looks
and that's not something to be ashamed of! After an extended ass show, Rush returns to the bed to finish himself off. He drops a sticky load on my floor and moans until the camera stops rolling, no doubt catching his breath from the intense session he just put on for us!