War Chest: Ryan Jordan
Dink Flamingo
2016-03-09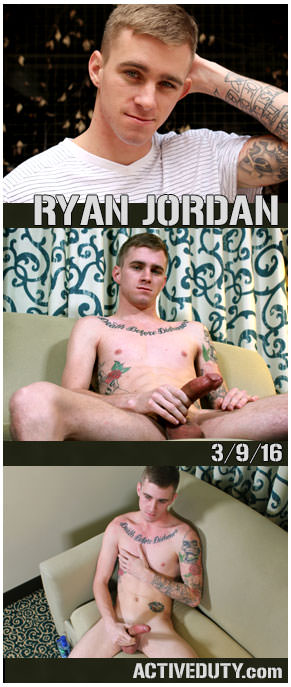 Hey Troops,
This is my very favorite type of new recruit to welcome to the squad. His name is
Ryan Jordan
and he's a guy that you can't help but absolutely love, right from the get go.
Ryan is definitely a
down-to-earth young man
who wears his heart on his sleeve. Claude chats him up a bit and it's clear that Ryan's a dude with whom it's easy to have an instant, real connection. I love that about him, but it's not the only thing that made an impression! ...but I'll get to that in moment.
Ryan tells Claude that he's an avid paint baller. That's no surprise considering that as an Active Duty soldier, he has to keep his instinct sharp and his trigger finger ready for action. In addition to blasting other guys with balls during his down time, Ryan enjoys working on cars and going to car shows. I can just imagine his lean, shirtless body hanging out, Ryan not giving much mind to the layer of sweat building on his chest as droplets form around his
warm nipples
, soaking up sweet California sunshine as he takes a stroll through an auto show. Boy, with some of these soldiers, the imagination just runs wild!
Like I mentioned, Ryan's a lean guy and has
tattoos
in spots above his belt and all across his left arm. A real military man, he has a script across his collar that reads, "
Death Before Dishonor
." It's a phrase that I might think to pin on Ryan myself if he didn't already have it. I can tell he has a true Blue heart, and brave blood in his veins.
Another thing that really struck me about Ryan was his smile. Seein' as this is his
first time jerking his swollen meat
on camera, it's no surprise he was a bit nervous and it comes out when he looks at us through the lens. Certainly, Claude helped him out by establishing that great rapport from the beginning. I liked this aspect a lot. Ryan is one that we'll see is willing and eager to mix things up with fellow AD recruits. Let's enjoy that bashful quality while we can!
Ryan truly has a
wonderful cock
. He gets it very
well greased
up for this solo session and Claude brings us in tight on a few occasions. I especially enjoyed peering up at Ryan as he
gripped his erection tightly
and peered around it, downward as we looked. I don't think I'm the only one excited to see him put that
behemoth dick
to good use.
After we get a nice view of
Ryan stroking
while on his feet, Claude shows us what it's like from Ryan's point of view, looking down at that
pulsating
thing in his own hands. Boy, what a byoot!
And when it finally does blast...HIT THE DECK!! This was a finale for the books. Even our boy Claude was surprised at the
massive cum load
Ryan shot. This was such a fun, great first time with a recruit that I can promise will be a golden addition to the troop.