War Chest: Ryan Rook
Dink Flamingo
2018-07-25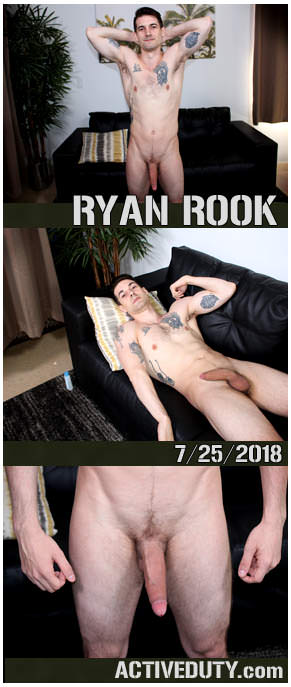 Hey Troops,
Our newest recruit is 27 years old weighing in at 150lbs and standing at a perfect average height of 5 feet 8 inches. Ryan loves to play Soccer with his friends and the team he plays for practices daily. When he's not working out his feet he likes to enjoy local concerts so he can let loose.
Ryan doesn't waste any time getting his clothes off. He slowly reveals his body which has some ink and he's mildly hairy but pretty much average. What isn't average is his
huge fat cock
. Ryan's dick is one for the AD war manual. He stacks up with the best of them and we hope we can see him in battle with some of our elites. Not sure which way he will lean but seeing that fat dick top an AD soldier will be amazing.
His fit body and easy demeanor make him ripe for a perfect AD encounter. His balls are cupped up as he gazes into the camera's eye continuously stroking his big thick dick faster and faster.
Ryan's cute ass tightens up
with every stroke of that heavy dick. We can tell he was coming close to bursting so we slid our glass table over to him and Claude dove under it so he could get the best cum shot for all of you. Ryan beats his dick with a few more strokes and blasts out huge thick cum spurts all over the table.