War Chest: Ryan V
Dink Flamingo
2018-01-24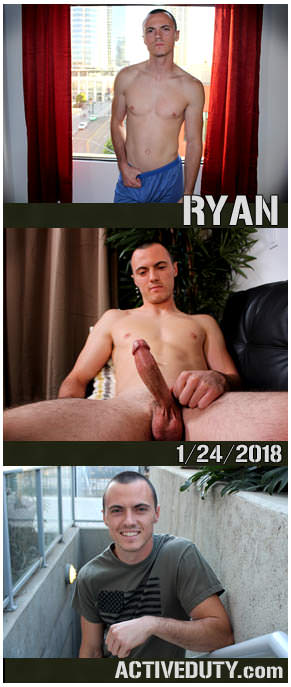 Hey Troops,
The recruits keep falling in waiting for their chance to be a part of this great squadron. Ryan is only 22 standing at 5 feet 8 inches and weighing in at 145lbs. He loves to run the trails at his local park and when he is with friends he likes to drink the finest local craft brews. He is in great shape and ready to test the waters here at AD.
Ryan can look like the nicest guy in the world as he strokes his
big dick
or he can be very intimidating. Here at AD we like both and Ryan has the mix. He drops his pants and throws his shirt to the ground as he warms up that
sexy dick
. His slim ripped body is very sexy to look at and we hope he comes back to battle with some of our vets.
He has the perfect amount of body hair and no ink anywhere on his body. His
smooth skin
and low hanging balls are beautiful to gaze at while he strokes his
cock
. Ryan likes to pull on his shaft slowly showing every inch of hardness he has to offer.
The slow stroking on his shaft builds his
nut
up quicker as he tugs all the way down to his
balls
and then all the way back up to the tip of his head. He moans as his nut is just about to release and once it does he covers his smooth chest in thick
gobs of cum
and he uses some of it as lube as he continues to slowly stroke his cock.