War Chest: Scott Ambrose
Dink Flamingo
2016-07-13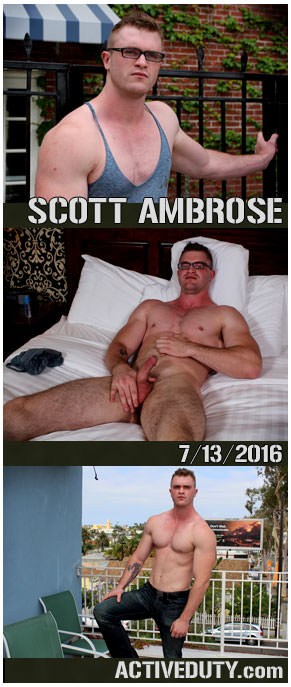 Hey Troops,
Here's a nice, heaping serving of
fresh, hot MAN
! This is my new obsession,
Scott Ambrose
. Scott is extremely well proportioned at 6'4", 220. He sorta reminds me of a stylish, updated
Clark Kent
, but it's probably just the glasses and the ripped physique!
Scott gives off a
sophisticated
vibe. He chats with Claude for a few minutes and divulges that he enjoys the gym and doing fun things outdoors. It was nice hearing about Scott, but I honestly couldn't get my mind and eyes off that
incredible chest
! Luckily, Claude let him get right down to it.
He starts out relaxing on the bed, watching some porn on the TV. Scott took plenty of time to rub himself all over before removing even a single item of clothing. Once his tank top came off, he still teased us a bit by prolonging the
solo foreplay
. I certainly enjoyed Claude's choice of positioning here. We have a great view of
Scott's feet
in the foreground. I could hardly contain myself leading up to the unveiling.
And once Scott finally does peel of those
blue jeans
, we see he's already very erect and eager to show us how he indulges. Scott has that perfect military look: the hair, the black-rimmed glasses, and we see here he even jerks his
stiff cock
like a good soldier! Scott really tugs his
hard dick
vigorously while letting his free hand do lots of roaming and exploring.
I think Scott had a good time with us on this maiden adventure, but I do think he has a little way to go before he's completely loose and comfortable. A little stiff (a lot stiff in one area ) and a tad
nervous
, Scott has room to grow and learn here with us at AD. I know the rest of the squad will be overjoyed to help him find his way.
Finally, we have Scott
erupting a healthy load of hot cum
all over his
six-pack stomach
. Claude weighs in with Scott briefly afterward and we get a good sense that Scott liked this first experience. Now, let's see if we can suit him up and get him out there on the battlefield with some of our experienced soldiers...I think there's potential here for a solid new prospect!