War Chest: Shawn
Dink Flamingo
2015-11-04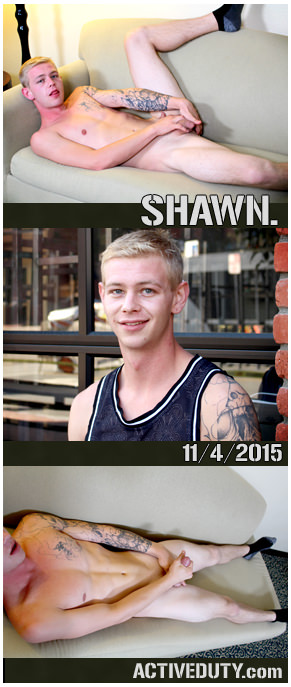 Hey Troops,
You know those
mischievous cuties
that always turn out to be freaks??
Shawn
is certainly one of those boys, and you'll see just what I mean. The hair, those tattoos and that
devilish grin
all put together make for a real blast of a good time.
Claude chats Shawn up for quick spell, and we learn that Shawn is a family oriented type of guy. He does have that hometown troublemaker flavor, which can quite often be a
real dick stiffener
when it comes down to it. I swear, it's tough to put my finger on, but as he and Claude talk, Shawn gives me such an Eddie Haskell vibe!
Handsome young pranksters
like Shawn are tough to pin down in one place. Luckily, Shawn's interested in becoming a regular here at Active Duty. I think it's safe to say we can unanimously agree on welcoming him to the squad.
Shawn is a thin guy, but he tells Claude he's pretty big on spending time in the gym. Once that tank top comes off, we see that Shawn is lean but very
nicely toned
. He also has a hint of that wonderful
farmer's tan
look I so enjoy. I love his
sun-bleached, fair complexion
. That nice,
golden skin
and his short, semi-tousled hair is so California and very I'm-just-here-to-party.
It's easy to see that Shawn knows he has a
great ass
. It's plump, sticking out in just the right way to be
properly pounded
. You'll notice, toward the end of the part where Claude is shooting him from behind, Shawn looks behind him at his own ass, then hungrily at the camera. It's a provocative moment that really makes me wanna get this bad boy together with another sexy recruit, and soon!
Just like I had suspected from the beginning, Shawn does in fact have some unusual things for us to enjoy in this
jerk session
. He ends up, pretty much right from the start, stroking while lying on his back. Claude comes in underneath for an upwards shot, where we enjoy
Shawn tugging his meat
and also the sight of
Shawn's lovely ass
. It's not long before Shawn is pushing his dick downwards and
rubbing the head all around his tight, pink hole
. What a
naughty young soldier
! I know once Shawn has the opportunity to do some experimenting with other squad members, he'll be in high demand among the group.
Then, we see Shawn get into some
couch fucking
. Claude captures some excellent shots of that
gorgeous bubble but
clenching and releasing. He requests that Shawn spread his
luscious cheeks
for us, and he does. Take a look here at that amazing hole!
So tender, so tight
, and I can tell, so hungry. That's a position I think we can fill!
This
sexperience
was also interesting because
Shawn blows two loads
. The first seems to happen so fast, it's unclear at first that he even cums. Claude does, however, get in tight to show us the
warm jizz
. Shawn doesn't stop, though. He erupts again only a few minutes later. This is a recruit I know we'll have everyone clamoring for. You've just gotta get a taste of this delicious new boy.