War Chest: Silas Ericson
Dink Flamingo
2018-06-27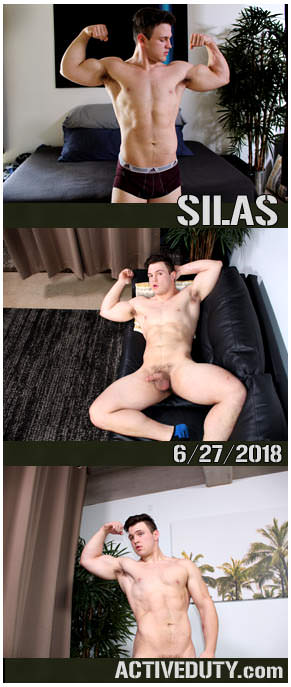 Hey Troops,
We would like a nice warm welcome for Silas who just turned 20 and stands at a height of 5 feet 10 inches and weighing in at an even 200lbs. Silas loves to look at himself in the mirror while doing different poses with his muscles. He's built like a Roman god and ready to show off what he's got.
Silas takes his clothes off revealing his
ripped body
and he loves to show off all his muscles. We couldn't stop him from doing pose after pose during the photo shoot and his body was looking amazing so we let him show off all his goods.
His cock becomes
rock hard throbbing
with desire to be sucked but the grip of his hand is making him quiver with delight and out of the blue Silas blasts a
huge creamy load
while standing up. He didn't give us a warning and let loose on his own terms but it was a great mess so we let him take a break and he worked his dick back up for us once again.
Silas has huge
firm thighs
that you can tell he spends hours working on to perfect them as wells as many others body parts. He can stand up for hours stroking his big dick but we let him relax on the couch and he sprawled out showing us his
tight little ass
. His bubble butt is firm and I bet some of our vets would love to get between them sexy firm cheeks.
Standing tall once again Silas is stroking his cock fast while holding his balls and just like that he shoots a load straight up in the air gushing all over himself with his thick warm cum.