War Chest: Simon
Dink Flamingo
2015-04-22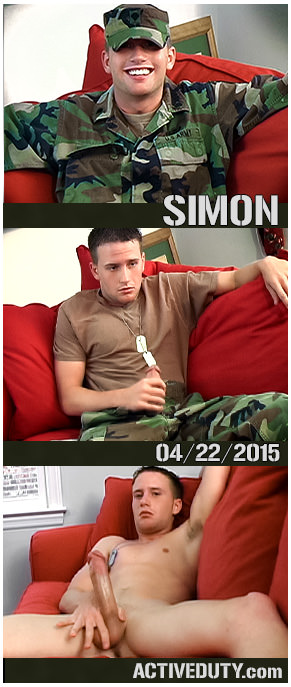 Hey Troops,
You know that old expression "change doesn't happen overnight", well right now I'm living that firsthand. I've taken a good long look at all the amazing comments you guys left in our recent member survey, and there's so many good ideas I can't wait to get started on, but it's true what they say -- change doesn't happen overnight, as much as I wish it could! There's gonna be a lot of work down the road to get some of the changes you guys suggested underway, but I know it's gonna be worth the wait. So just stay tuned!
In the meantime, I've been lookin' for ways to make some of the smaller things you guys have asked for possible. One of the things that stuck out in my mind was some of you asking for some more scenes with
uniformed guys
-- in the survey you guys seemed pretty split on whether we should make more scenes that focused on the military theme, but since it's
been a while since the last uniform scene
I figured we were overdue for at least one scene here and there. So I've dug through my old tapes and came across this beaut from 2002 with a fit young buck in fatigues,
Simon
.
Simon's a cute young gunner grinning from ear to ear under his cap. He's only 20, and he's a pretty scrawny guy, weighing only 130 lbs. and measuring 5'8", but
he's got a great spunky attitude and lots of love to give
. He hails from Kentucky and actually I was introduced to him by
Caleb
, who we'd
shot with just the day before
. They've been best friends since they were kids, and much to my dismay I never could get them in together for a scene - there's nothing quite like seeing best friends boning, because once they get past their nervousness they tend to crack a lot of jokes and have a really natural vibe that you can't always get with strangers. But now I'm gettin' away from myself, let's get back to our boy Simon.
Like I said, Simon's cute if a little scrawny, but that's not his best feature by a long shot.
Caleb told me his pal was hung like a horse
(wonder how he knew that?? Maybe they've had a few jack-off sessions together in the past) and Simon definitely did NOT disappoint. His cock is huge, and not just long but he has to wrap almost the whole length of his fingers around his rod because it's got so much damn girth. A couple of times he sticks it straight up to give us the full view and let me tell you,
it's a god-damned masterpiece
.
Well, I hope you enjoyed seeing Simon don his dog tags and fatigues and then strip back down again for ya. It's just a taste of what's to come, and I think you guys will have a lot of fun with some of the things I have in mind to try over the next few months based on your feedback!