War Chest: Spencer Shay
Dink Flamingo
2018-10-31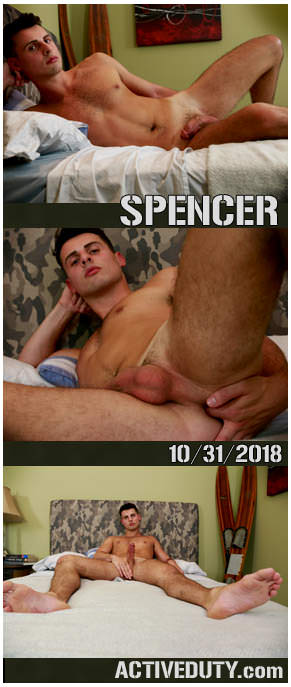 Hey Troops,
Today Dirk is talking with an amazing 24 year old that hails from Boston and is in the Army. He is on a 30 day leave and thought while he had this time he could try out the adult industry.
Dirk picks Spencer's brain before he lets him loose. Spencer has always been curious about being in his own porn and while he is on leave he has decided why not try it out. Dirk gives him the OK and Spencer drops his pants and begins to
stroke on his thick hard cock. His balls are huge as well as his thick dick
that he uses two hands to grip at times. Spencer is eager to follow orders and Dirk commands him to get onto the bed.
He calls to Dirk letting him know that his about to explode and a few moments later his dick is unleashing a mountain of warm thick cum all over his own chest. He gets on his knees to show just how much of a blast was left on him.