War Chest: Tim Tank
Dink Flamingo
2018-02-21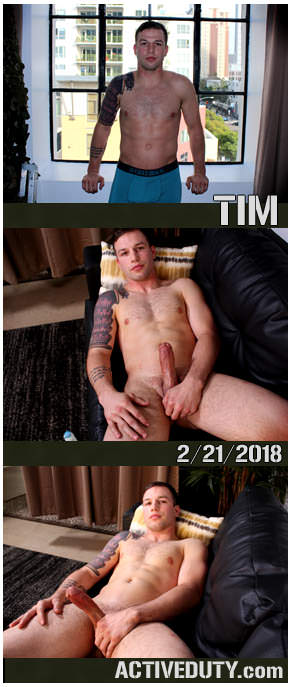 Hey Troops,
Tim the tank is here showing off hoping to become an elite veteran. Tim is 23 standing at 5 feet 9 inches tall and weighing in at 175lbs. When Tim isn't playing with his Tank cock he's out in the woods hunting for his next meal.
Tim has one
beefy cock
. It's thick like a soda can and he's always got his hands full. Tim is a quiet fellow but such a nice young man. He was gracious enough to ease into our couch becoming comfortable and letting us film him stroking that
thick dick
of his.
He has some ink on his arms and he is moderately hairy but his hair is right where it should be. He strokes his big dick slowly with a
bear grip
and he loves to
tug on his balls
. Claude gives us a really close up shot of his
furry balls
while he plays with his cock using both his hands.
When he stares into the camera stroking his thick meat you feel as if he knows exactly what you are doing. With every stroke of that dick it becomes more and more veiny showing us just how hard this thick dick can get.
I know some vets would love to feel that thickness
spread their holes
right open but for now we'll have to sit back and enjoy Tim in his moment. You can hear Tim's breathing get deeper as he finally releases his well built up load all over himself like a fountain.