War Chest: Todd
Dink Flamingo
2015-05-06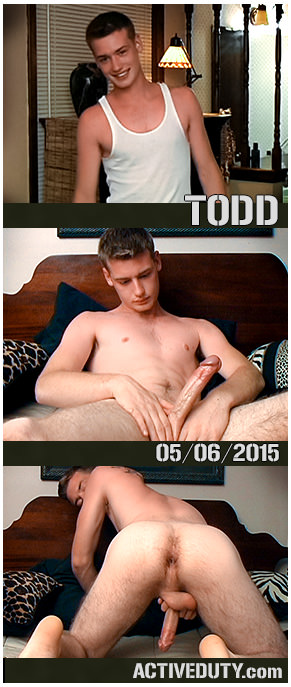 Hey Troops,
As I'm sure you know by now, I go absolutely crazy for jocks. It's no surprise that the
Troops page
is full of rowdy,
ripped
masculine young men, because that's just the way I like 'em. You won't as often catch me salivatin' over a
twinky young prettyboy
... but every now and again you'll find one of those guys who blurs the line between the two, a cocky
straight
masculine dude with a pretty face and a slim bod.
Todd i
s just that type of guy, and when I was looking back through old tapes and pressed play to see him
starin' at the camera with those doe-eyes and those big pouty lips
, I just felt compelled to keep watchin'.
I met Todd years ago when he was walking his dog, and he looked like someone I knew so I approached him thinking it was that other guy. Well, fortunately I was mistaken, because Todd was much better looking than the guy I thought it was! Imagine that. That day I told him to call me if he got interested -- but he thought I said if he got arrested -- what could be going through this boy's mind if that's the first place his mind takes him? In fact, it's the guys who are up to no good who give the best performances because they just
don't give a fuck what people think
, so that's how I knew Todd would be perfect.
Todd's 19, hails from Chicago, and like I said, he's a bit of a slim jim -- 6'1" but only 170 pounds, practically skin and bones! But that's ok, because
his bone is the best part
, measuring at an incredible 8 inches of pure beef jerky. It's long and slim like him, with a big mushroom head on top. I know you wanna see it for yourselves so I get him to strip down, but I tell him to leave his boxers and beater on for a little spin & twirl. He seems really embarrassed for some reason and then I find out why -- he's wearing a pair of boxers with a huge hole in the back, and
his ass-cheeks are just hangin' out like a full moon
.
Todd gets comfortable on the bed and works up his stiffy to its full length, pulling on the head gently to keep it aroused but not ready to finish so soon. He works it lightly for a while and even turns over to give us a wink with his tight little virgin butthole. Then he flops over again and gets serious, jerking his cock to climax. He gives a final coy little smile as the camera closes out, and hints that he'd love to get someone else in there with him for another scene. I bet he would, the horn-dog!