War Chest: Tommy Porter
Dink Flamingo
2016-05-11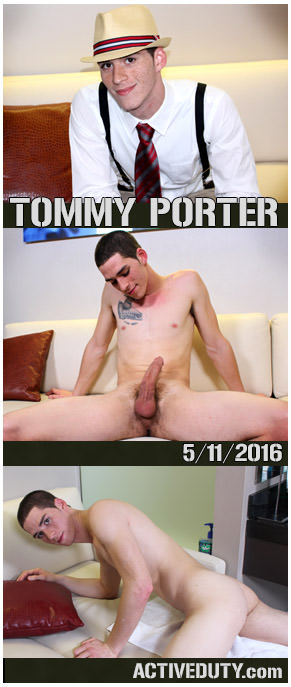 Hey Troops,
This has to be the cutest,
sweetest boy
we've had cum through in a long time.
Tommy Porter
simply slayed me with those big, brown eyes, those freckles, and that boyish charm! And wait until you see his adorable outfit. He wore suspenders, a straw hat, and a necktie...just like a sweet, young pool-hall hustler, too big for his britches.
And when those britches come off, wow! Tommy has such a nice cock. After chatting with Claude for a minute or so, Tommy pulls out his
stiffening meat pole
and strokes for us. He's very lean and nubile, just the perfect look for an ideal recruit. I think he has the look and the body to get the whole AD squad excited. Oh yes, Tommy will certainly be a huge hit.
After Tommy gets past the initial jitters of masturbating on camera for the first time, he really let's go of his inhibitions. Claude gets in nice and tight to show us just how gorgeous this
young man's dick
is. He also shows us a few close shots of Tommy's handsome face. Gosh, what a looker! And for a first-timer, Tommy knows how to sell his assets in just the right way. I'm seeing a lot of natural potential here!
Tommy does a wonderful job of showing us how nice and weighty his
fat cock
is. He does some very hot slapping and slow squeezing that sure stoked my fire. Claude shows us what it looks like from Tommy's own viewpoint, and we get a look at
Tommy's strong, youthful hands
.
I very much enjoyed Tommy's
milky complexion
. His skin is so porcelain-perfect. He has that irresistible quality of skin that just makes me wanna touch.
After a little while on the couch, Tommy goes to his feet. Claude gets in right underneath him and gives us a sweet view of Tommy's ass and cock as he continues to
jerk for us
.
And then it's couch grinding time! My goodness, this boy has a
fine rear end
. Usually, I'm not a fan of socks being left on for a solo session, but something about the contrast of these
black socks
against Tommy's supple complexion cranks up the heat and makes this oh-so steamy. You've GOTTA see him in action here, as he flexes that
bubbly ass
for us. I cannot wait to see just what Tommy does when we pair him up with another fine recruit!
To put some icing on the cake here, Tommy generously doles out
TWO incredible cum explosions
! You read that right...Tommy
cums twice
for us. We've really got something special here on our hands and I know Tommy is gonna be the biggest thing here at AD in a long time!