War Chest: Trammel
Dink Flamingo
2015-08-19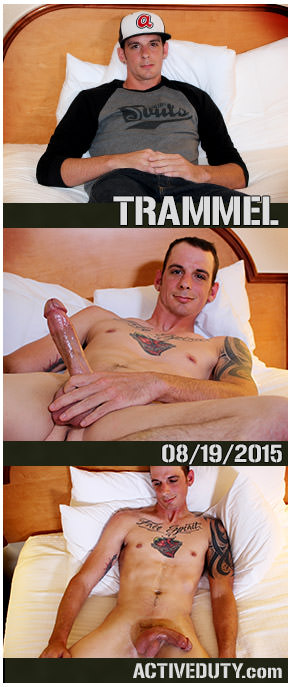 Hey Troops,
What a special show this time! I haven't seen a hunky, tall drink like this soldier in a while. Trammel 6'2" and dripping with Southern charm. He has a personality that draws you in, and you can tell he's comfortable as a gander in the nest... a gander with a
huge cock
, that is!
Trammel comes to us via Claude, who, I can tell, really falls for that charm quickly, but who wouldn't?! Prior to Trammel coming on in, Claude had heard he was enormously hung. Claude gives us a very nice and fun preliminary interview. He asks Trammel if he's ever had anal sex. Trammel, with a wry grin, tells us that he has indeed fucked in the ass, more than once, and the outcomes have apparently ranged. It's gone well sometimes, on some occasions, his would-be partners have "ran the other way!"
After this light, loose chit chat, Claude leaves Trammel to get on with the sexy time. Trammel begins by gingerly pulling down the elastic waistband of his undies and letting that mythical beast poke its head out. He works from gentle rubbing into some nice, firm stroking. Eventually, of course, the underwear comes off and we get to
fully drink in Trammel's great size
.
His dick should truly be immortalized in statue, or perhaps oil portrait. He tells Claude in the interview that he's about nine-and-a-half inches, ten-and-a-half is he's extra turned on. Claude and I have each heard boys a million times estimate around this length and most often, it's a sore overestimate. But in Trammel's case, I'm not sure he ain't over-guessing! Trammel has a truly well-proportioned, beautiful cock. And he knows how to stroke the
big ol' throbber
. Claude even remarks that he can tell Trammel plays with it often. Who could resist enjoying that natural blessing all the time??
He sure does know how to stroke it and show it off. It's always clear to me when a new recruit is a bit nervous about his first time tugging meat on camera. And I'm not saying it's a bad thing, but Trammel's confidence was wonderfully refreshing. I enjoyed seeing his face during this solo. He's comfortable in his skin and especially comfortable handling that big, juicy hard on. It was those little smiles and genuine looks of
ecstasy on his face
that made this jerk off performance one I'll never forget.
Trammel's easy-going nature makes me think he'd be comfortable mixing with other Active Duty recruits. He certainly has that natural leadership quality we look for around here. That big heart tattoo on Trammel's chest is right on the money; I can see Trammel has one of those deep type personalities. Compassionate, sensitive at times, and easy going...three important traits for someone who would be gently leading men into uncharted territory. That's why I hope we see Trammel back very soon. I want to embed him right into a multiple-man outfit and see what he can do. I definitely know he'd do some damage with that
destroyer of a cock
. I'd like to see him use it on some troops we've seen who might be ready to move up to a higher level of taking hard dick. Wouldn't you be convinced if you were a fresh soldier on the front lines, looking for motivation to push onward?? Whatever the future holds for Trammel here at Active Duty, I'm just glad we have him on our squad!