War Chest: Travis
Dink Flamingo
2015-04-15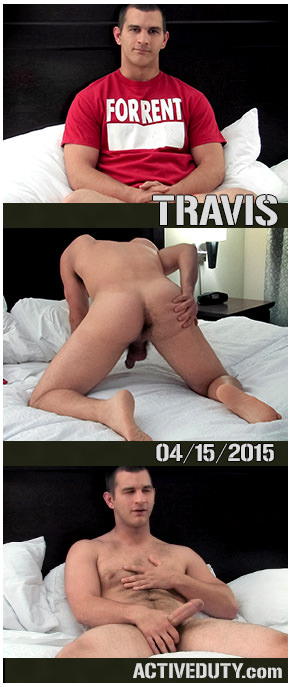 Hey Troops,
It's that time again for War Chest Wednesday, but maybe we should call it Hairy Chest Wednesday, because our new recruit Travis' chest is covered in a nice thick carpet of hair that you don't usually see on most of the young gunners we get coming out the gates.
Smooth
skin with
some army inks
are what most of our guys from the foxhole are usually sporting, so it's a real treat to see Mike shake things up with a recruit who's got a bit of a different look to him.
Of course he's still got that soldier smirk and swagger
that being a fit 22-years-young beaut would do to a guy, and he answers Mike's questions lightning quick like Mike was his drill sergeant. Sir, yes, sir!
Travis is from Cincinnati, and he's 6'0" and 195 lbs.
"Hell yeah I am!" he boasts when Mike says he looks like he's in good shape
, and that's just the type of attitude I love to see. You know what they say about big hands, big feet, and big mouths! Mike lets Travis get comfortable and right away he pulls off his shirt, not shy at all about showing off what he's packing despite being a first-timer.
Travis arches his brow and smiles at the camera as he plays with himself, mixing some cockiness in with the
usual nervous look
that our
first-timers
sometimes have. When Mike starts to zoom in to get a better look at Travis' bulging muscles, Travis even puts on a bit of a show,
flexing and posing
like he's trying to win a prize. Sorry buddy, the only prize for you is the one you've already got between your legs!
Travis is a real good sport at giving us the full monty. He bends over to spread his cheeks, bounces his pecs up and down for us, and
even gives us a bit of windmill action
during his solo. There's nothing I love more than a guy who's at home in his own body, because those are the kinds of guys who are always willing to get a bit crazy, and those make for the funnest shoots!