War Chest: Travis
Dink Flamingo
2015-12-30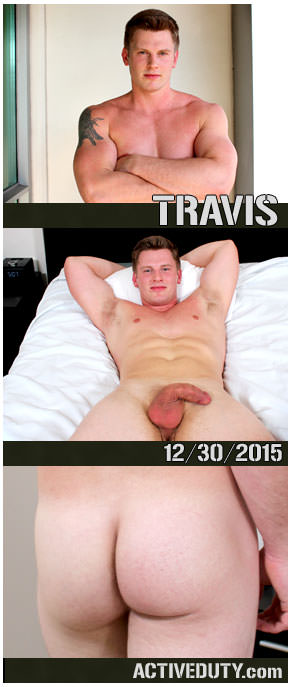 Hey Troops,
A new recruit has arrived and he is an all American boy for sure. Weighing in at 200lbs and standing tall at 6 foot this soldier is on leave and wants to show off his goods.
Travis seems at home for a rookie. He's relaxing in the bed wearing some shorts rocking a great smooth body that you can tell he keeps in tip top shape.
This is one gorgeous man so clean cut and fit with a very sexy cock and extremely smooth balls that any soldier would love to feel in their mouth. The nervousness subsides from his face as he loses himself in the moment with his tasty dick in his hand. I think some of the squad members would love to be pounded by this hunk in the mess hall or even in a bunk when no one is looking.
Claude loves to check in on our recruits to make sure they have no problems stroking and in this case it was in the nick of time as Travis needed some lube for a better grip as he strokes his cock and rubs his balls. Travis makes eye contact with the camera a few times and the smile on his face only means he is have an amazing time playing with his cock.
After a long stroke session sometimes you need a helping hand or maybe a pocket pussy to heighten the feel up some. Claude has all the tools for this warrior and Travis can't get enough of the fleshjack wrapped around his cock. This is where the angles begin to get more intimate as Claude goes into the battlefield catching all the action and sounds up close and personal.
Travis beats his meat standing up for a bit but eventually ends up back on the bed with the fleshjack in hand. He wants to the show the squad what kind of load he has so he pulls the fleshjack off and lets his cock loose shooting warm jizz all over himself. I'm sure we'll be seeing more of Travis in the near future once we set him up with a fresh new recruit.