War Chest: Tristan
Dink Flamingo
2016-11-30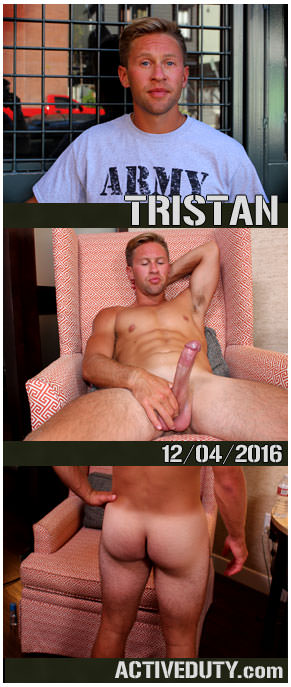 Hey Troops,
From Claude's chat with Tristan, I can tell he's a little nervous. This IS his first time getting' nude on video and Tristan certainly seems like a sweet newbie. Don't worry, buddy. We'll take reeeeeal good care of you!
Once Claude leaves him to it, Tristan pulls of that "ARMY" t-shirt and woweee! Tristan is very nicely chiseled. Riding those waves has sure paid off! And take a look at how well Tristan's khaki-colored pants complement his golden, toasted skin. This recruit clearly has an excellent aesthetic sense. He knows how to look good!
Once those pants and undies do come off, BOIOIOING!!! That
cock is perked up
and ready to go. Goodness, what a beautiful, happy dick. It's one of those dicks with an
upward curve
, the kind that hits just the right spot.
As Tristan slides his hand up and down that
incredibly stiff erection
, Claude moves up close so we get a great look at the action.
Tristan's cock
is so long he can barely get his grip around the whole thing when he's relaxing in the chair. I love the way he
pleasures himself
: he takes plenty of time to wave his
hard dick
around in the air, admiring it visually. And when Claude is here, take a look at Tristan's lovely, blond arm and leg hair. They're like golden strands of sunlight, dancing as he
jerks his swollen dong
.
When Tristan stands up, Claude goes underneath to show us how
greasy and stiff
that meat has become. Wow! It's so well shaped and happy to be receiving attention from its master. When Claude gives us a look from Tristan's perspective, I just get chills. That is one
perfect boner
!
Then we go back to the cushioned chair, where Tristan gives us some teasing looks. I know the whole squad is gonna go crazy for this
surfer dude
. Finally, Claude gets in tight on Tristan's handsome face, and also gives us a great look at his lean chest and abs. Check out that
massive cum blast
, right onto the footrest. Tristan is gonna add a real cool dynamic to the squad, and I'm excited to see him step up to the plate next time, and hopefully serve up that ass to a lucky fellow recruit!