War Chest: Ty
Dink Flamingo
2017-08-30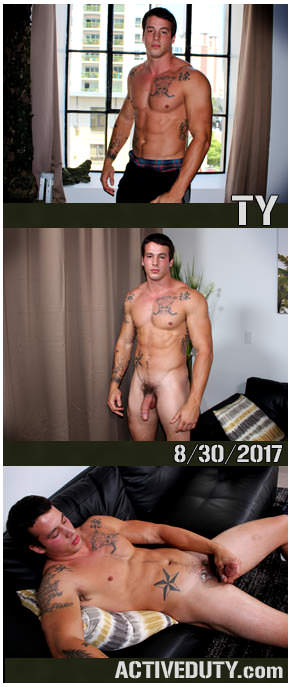 Hey Troops,
We got a beautiful hunk of man with us today shooting for a spot in our rookie barracks.
Ty
is a young meaty man of only 23 years of age but standing tall at 6 foot 2 inches and weighing in at
220lbs of pure muscle
.
Ty is on leave and one of the things on his bucket list was to be
filmed
stroking his cock on camera
so we wanted to put him to the test and see if he has what it takes and I think he passed with flying colors. Ty is big meaty boy with a great toned muscle body added in with some ink as well. His
thick hard cock
is very sexy and I'm sure any of our vets would love to bend over for Ty and feel their holes being stretched.
Ty has a
sexy look
and his thick cock looks great and I be taste even better. He gets his
throbbing cock
rock hard with every stroke of his fat shaft. His bubbly ass is to die for and here at AD we would love to see that fit ass rimmed like never before.
Claude gets in the midst of it all as Ty stands tall over him showing us his sexy full balls and his firm muscular thighs as he pulls hard on his dick.
Ty lies back down on the couch and grips his thick dick really hard as he gets close to shooting his cum. Ty brought along his favorite toy which is a fleshjack and he puts it to great use. You can see his cock
squeeze into the toy
and the sounds of it wrapped around his cock as he pulls hit up and down his shaft. You can see the enjoyment on his face as he uses that tight toy around that big dick.