War Chest: Tyler Austin
Dink Flamingo
2018-11-07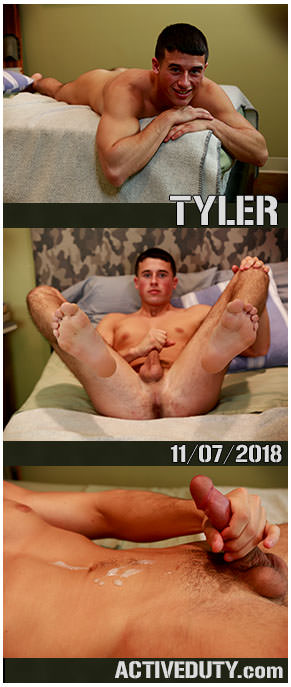 Hey Troops,
Today Dirk has found us a
beautiful 21 year old
who is stationed in the SD area. Tyler wanted to try out the adult industry so he could network with people and he has come to the right place. He loves football and basketball amongst other things and he is eager to get started.
Dirk begins some small talk with Tyler making him feel more at home. Once Dirk has opened him up he tells him to let loose and so he does. Tyler takes his shirt off and the rest of his clothes revealing his
smooth fit body
. His cock begins to grow as he strokes his hard cock showing us just how much length this young man has between his hairy legs.
Once Tyler is
rock hard and his balls are slapping
from all the fast tugging he is doing, Dirk tells him to get on the bed and spread his legs. He gets on the bed and shows us his hairy legs while stroking his throbbing cock.
Dirk loves to ask the men, once they are on the bed, if they have ever been caught masturbating. Tyler reveals a great secret and once he is done telling Dirk he is than asked to bend over and give us some ass shots.
Tyler bends all the way over with his
ass up in the air
and spreads his legs wide as his head is buried in the pillow. He continues to
stroke his hard cock
from behind as he uses one hand to spread his ass wide open for all to see.
His smooth hole
winks and soon enough Tyler is back on his back stroking his cock.
Tyler tugs on his hard dick a few more times and he finally releases his built up load all over his smooth chest.
Gobs of thick cum
rest on his chest as he finally empties his balls.