War Chest: Tyler Seid
Dink Flamingo
2016-03-23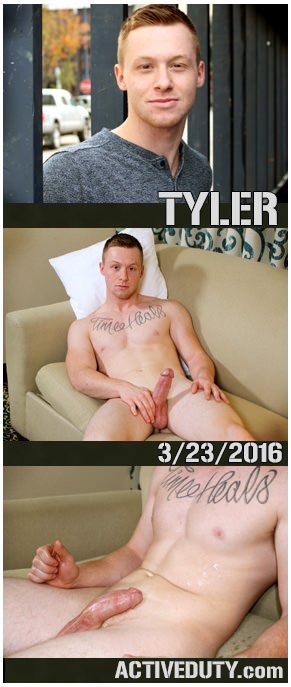 Hey Troops,
Take a look at the
handsome
on this boy! Wow, what an amazing recruit to have with us on the solo couch this time. Claude has brought us a fine, fresh soldier named
Tyler Seid
, and it's easy to see he's looking to please and have a good time doin' it!
It's no surprise that Tyler is into sports and keeping in shape. He has that
all-American
, upright recruit look and I'm excited to see how far he goes with us here at Active Duty.
It seemed like Tyler spent a lot of time
rubbing himself
, fully clothed. Boy, this sure did get my motor running over time. And once that shirt finally does come off, we see his nice, muscular chest with a big tattoo that says "Time Heals." This tells us Tyler may have a little more life experience than most other fresh recruits we see come in. I like that. I usually find that boys with a real, interesting back story pack a little extra personality. I can already see that after this experience with Tyler.
When the jeans and then the boxer briefs come off, we get the full view of Tyler's amazing complexion and, of course, that
luscious cock
. He's fully hard, stroking like he ain't joking. Claude gets low and tight to show us a sweet view of Tyler's balls. This is just a wonderfully put together soldier.
Gorgeous muscle tone
, strikingly handsome face...and eyes that seem beyond his years.
Tyler stands up and Claude gets underneath him to give us an idea of the real length and girth of that big, hard dick. Tyler glances every once in a while at us around his
stiff boner
. I love the facial expressions he has while cranking his meat. It's not quite a smile, but there's definitely something going on. I guess he kind of a living Mona Lisa!
Then we get a top-down view of the
jerking action
. Tyler has wonderfully masculine, yet gentle hands. They really look hot with those strong fingers wrapped around that
pulsating cock
.
Back on the couch, Tyler kicks one leg up and really gets comfortable. Claude gets up high and shows us the whole picture as this tasty new recruit works on his
throbbing dong
. And we still get those glances every once in a while.
Tyler gives us a look at his
ass in action
when he gets into some nice upright
pillow fucking
. I enjoy when seeing this as a little break from the laying-down pillow fucking. Tyler uses his powerful ass to pump that erect cock into the soft cushioning. What a lovely sight.
It all works out great, finishing up with a healthy eruption that even surprised Claude. "The couch, your chest, your face," Claude laughs. Let's all get ready for a lot more fun with our new boy, Tyler!