War Chest: Vincent
Dink Flamingo
2018-03-14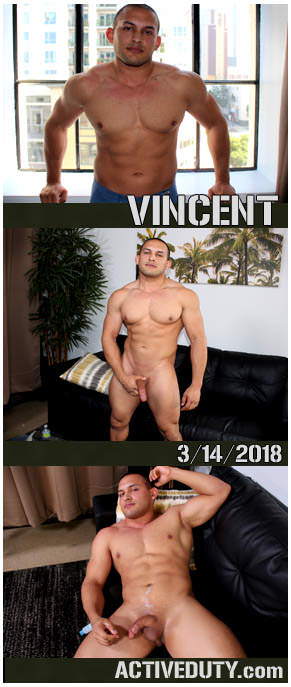 Hey Troops,
Our new recruit today is only 23 weighing in at 180lbs of pure sexy muscle and standing 5 feet 6 inches. Vincent as you can tell has an amazing physique and he is most definitely a gym rat. He is always putting in hard work and making sure his body is in top physical condition.
Vincent becomes comfortable real quick once his opening interview is over. He drops his pants and shirt revealing all his
sexy muscles
. He would do great in any field operation because of the great condition he is in. I'm sure he would put our vets to the ultimate test.
Vincent is in the zone as he strokes his
cock
slowly with style showing us his
smooth balls and legs
. He gazes into the camera every so often but it's a sneaky gaze so keep your eyes peeled. Vincent is completely smooth so smooth you could slide right off of him.
Claude in classic fashion gives us the best views as he slowly pans up and down
Vincent's gym body
. Vincent loves the camera as he
strokes
his hard cock for our viewers.
He likes to
rub his balls
while stroking that sexy dick making his build up for a great cum shot. His breath begins to pick up as he becomes close to shooting that sticky load and once he does release it it's a huge load of warm cum all over his cock and smooth chest. I know of a few vets that would love to be the cleanup crew for this sexy man.