War Chest: Woody Johnson
Dink Flamingo
2018-03-28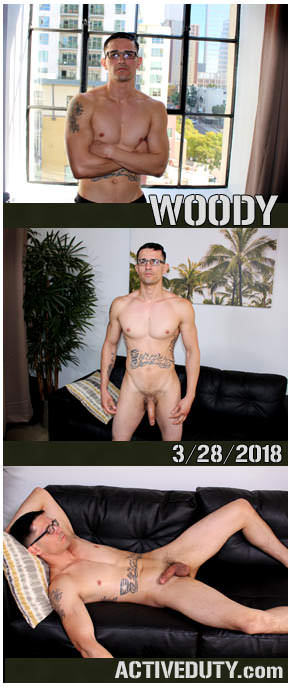 Hey Troops,
Woody is our new recruit and ready to rock out with his cock out. He's at a great age of just 29 years old standing at 6 feet 2 inches and weighing in at a muscle whopping 175lbs. Woody is all about meeting new people and going to places he's never been before. He is all about the adventure and here at AD is the best place for a great start to an adventure.
Woody isn't skinny by any means but rather he's built amazingly well. If you like your
men with glasses
well than Woody looks super dam sexy in his frames. He's quiet and well reserved but that cock on this beautiful man is
one big Johnson
. It just keeps on growing and growing till it's
rock hard
and he's using both hands to stroke his
big dick
.
He kicks his head back
spreading his legs
nice and wide so we can see all his man glory. Woody has to use both of his hands to get a good grip on that
veiny big dick
of his. You can hear the sounds of the lube as he strokes his cock fast and slow. You can see it in Woody's eyes that he is enjoying himself to the fullest. I bet he would do great with some of our vets.
Woody has a
smooth sexy toned body
that is just so pleasing to the eyes. His ink is in the right places and will not distract you from the main attraction. His nipples become harder as he beats his cock building up his balls for a great explosion.
Finally Woody releases his load and it cums out slowly from the tip of his big dick oozing down his cock which he utilizes as lube as he continues to stroke his cock. You can almost smell the cum now as it looks like lotion once it is fully lathered all over his big cock.