War Chest: Woody
Dink Flamingo
2015-02-25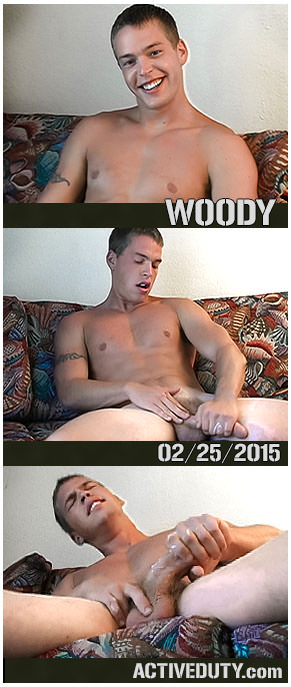 Hey Troops,
This War Chest Wednesday brings back some great memories for me, because it's one part
hot solo scene
, and one part travel log. My quest for ready, willing and able young bodies brings me all over this great nation, and one of the greatest pleasures of travelling is getting to sample the local dishes. And I'm not talking about the food, Troops!
All my friends know they can't take me anywhere, because I've got this naughty habit of propositioning good-looking busboys and waiters to be in my videos, and
Woody was no exception
! I got a special vibe from Woody that he'd be
the type to misbehave
, and I was not disappointed.
Woody's a cut Cali cadet
who measures in at 5'9" and 175 lbs., though you know that's not the kind of measuring I'm interested in. I've got a much bigger interest in measuring the monster bulge that this boy struts around with all day. Woody ditches the clothes and gets right into it,
pumping his huge meatstick
as he watches the porn I've got playing on the TV. He polishes his dick a helluva lot harder than he polishes tables, that's for sure.
Woody's got a different way of stroking than a lot of the guys I come across, in that he rubs his dick with an outward motion instead of tugging up on the shaft like most guys do. I love it, it makes this gorgeous fella all the more special to watch. Woody's got globs of
lube all over his fists and his thick shaft as he cranks it
, but make no mistake, that isn't gonna be the only white liquid his dick gets covered in by the end of it!
At the end of the day, there's no place like home, but let me tell you -- when I go travelling for my job, I always manage to have myself a great vacation. Who says business and pleasure are mutually exclusive?