War Chest: Zach
Dink Flamingo
2016-10-19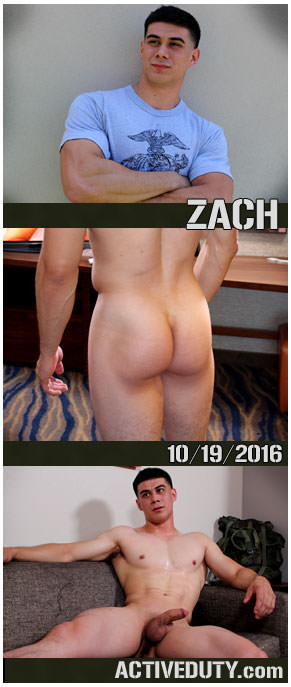 Hey Troops,
Talk about a perfect specimen! This is
Zach
, a Marine who doesn't shy from a challenge and is always seeking to push his boundaries in the name of adventure. And that's what's brought him here with us! Zach is a
first timer
who thinks pulling out his cock on camera and
jacking off
for us could be something that expands his horizons. And it MIGHT lead to Zach expanding a few
tight holes
!
Zach is a laid back dude who spends his time working on his impeccable body. Zach is an active, outdoorsy kind of guy too. When he's not pumping iron in the gym, he's probably out in the woods, roasting a few weenies.
Once Claude gives him the green light, Zach is eager to peel off his shirt and show us his
incredible chest
, stomach, and arms. Wow, Zach is the total package! And speaking of packages, when Zack shows us his
growing dick
, get ready to be VERY impressed.
Claude shifts gears a bit and captures a nice establishing shot, and we see that Zach is on his toes for much of this
stroke session
. I really like this. Zach is totally going for it, finally losing track of himself and allowing the pleasure to take over. I would've liked him to lose the socks, but it does give us something to look forward to next time.
I'm really glad Zach came in and graced us with an
awesome solo
. I think his attitude and
tasty physique
make him a perfect new addition to the squadron. Let's keep our fingers crossed and hope he comes back to play again soon!