War Chest: Zack Matthews
Dink Flamingo
2016-03-30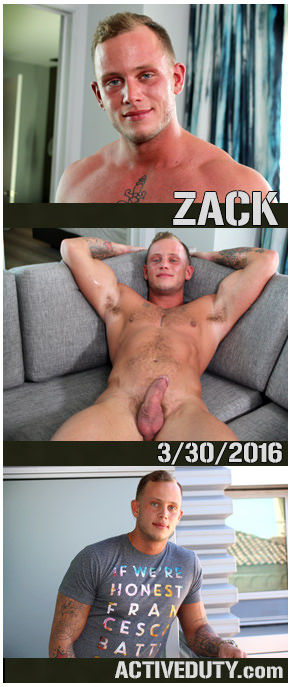 Hey Troops,
There ain't no better way to say it...
this boy is HOT
!!! Take a look for yourself at our newest, freshest recruit, Zack Matthews. It's been a little while since we've seen a guy with this much cool factor. Sure, each member of our modest 'lil squad brings his own unique flavoring, but Zack has a quality about him that really just oozes that
hip vibe
. I'm digging it and I think we have a LOT of fun to look forward to with Zack.
Now if you don't believe me, just take a listen to the brief conversation he has with Claude before things get rolling. Zack says, of course other than working out, he enjoys various expressions of art! He lists sculpture, literature, and photography, if I'm not mistaken, among his favorite forms. An interest in artistic expression can sure give a guy that extra bit of dimension. With Zack, it does just that.
Once left to get down to the
dirty business
, Zack takes a little longer than usual to strip off all his clothes. But once he gets down to his undies, we see something's certainly
ripening up
. He rocks a sexy pair of black, pin-striped briefs, which reinforced my feeling that Zack has a good sense of fashion. They come off and we get our first look at his
glorious cock
.
Boy, Zack is built so well. He's nice and lean, but with plenty of
power in his arms and chest
. He's not short on masculine essence, no way. Zack has that special manly quality that's hard to find in artsy guys. He's a great combination of hip and sensitive, and gruff and strong.
Claude does an excellent job working his way all around our handsome new recruit.
Zack tugs his oily boner
and Claude shows us every angle. I very much enjoyed Zack's right forearm tattoos. They're a patchwork of fun, colorful stars and I loved seeing them dance as he fervently jacked his
swollen dong
.
He goes from the couch to standing up, where Claude aims his shot upward. We get to see
Zack's luxurious balls
and watch his face occasionally peek around his
hard cock
as he strokes.
Then it's back to that groove on the couch where Zack loosens up a bit, letting his hands explore. He discovers his
asshole
could use a little play, so he adds to his pleasure with some
nice rubbing
.
Finally, it's a sweet explosion of
hot cum all over his chest
. Golly, what a nice blast! And Zack seems relieved, I'll bet partly to have done a great job for his first showing. I know the whole squad will be in support of another round with this one. He's an all-around awesome new recruit to join us and will definitely be showing his peers some new tricks while learning a lot himself!