Zane II - Solo
Dink Flamingo
2014-04-02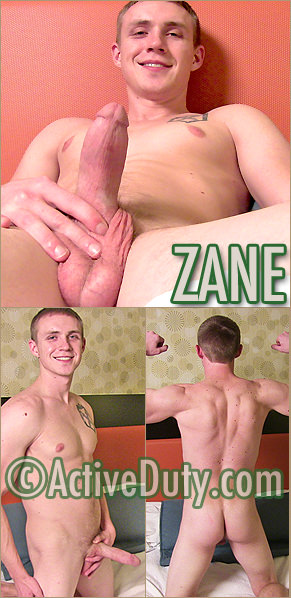 Hey Troops,
Time is running out to experience both Active Duty *and* Amateur Straight Guys (ASG) as part of your membership. Normally, ASG costs $19.95 a month, but we're giving you free access to the site until April 15. There are oodles of scenes (ok, more like 550) to download and keep forever, so what are you waiting for? Go check out all the great content over at ASG!
Also, our membership cost to Active Duty has been sale priced to just $9.95. That's a crazy insane deal for all of the stuff you get inside Active Duty. Granted, I *may* be a bit partial, but seriously, that's less than $10 and you get more than 800 downloadable videos -- that are yours to keep. Just peruse the tour section of the site, check out what we have to offer -- and all of the fine men, too. I bet you'll agree it's an amazing deal.
Ok, ok, I know what you're thinking: Get on to the new update! lol. Alright, fine!
Tonight's War Chest Update features a brand new fella named Zane. He's a young looking 25-year old fella who is in front of the camera for the very time. The Tennessee boy stands about 6'1" tall and weighs 170 lbs. (and he's got a cute accent, as director Kaden points out). Zane enjoys playing basketball and mixed martial arts (you'll see his body is toned from the athletics that he enjoys, clearly). Kaden asks Zane how to describe Tennesseans, and if they are "southerners." Zane laughs, and jokes that they are "southern redneck."
Kaden lures out some information from Zane, finding out that he "tries" to jerk off at least twice a day. "Helps me sleep at night," Zane says.
Well, Zane is going to sleep well after this scene -- where he dirty talks to the camera, fingers his hole, and tells us how he wants to fuck that "ass." We'll see what ass -- if any -- he fucks in the future... But in the meantime, check out Zane's first solo for us in the War Chest.
See you back here on Sunday!
Dink