War Chest: Nickolai
Dink Flamingo
2019-07-17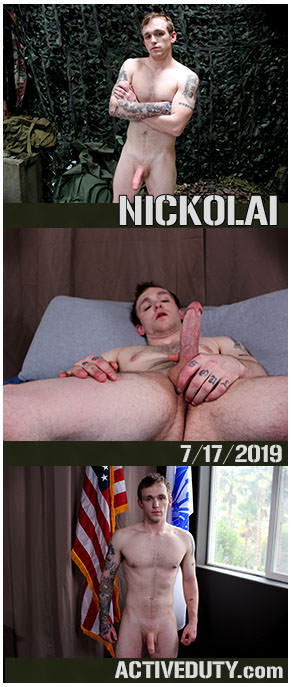 Hey Troops,
Today we have a young soldier by the name of Nickolai. He's only 23 weighing in at a perfect 150lbs and his passion is motocross.
Nickolai has been waiting for today for some time since he was allowed leave. Once he hit the freeland the first thing he had on his agenda was AD. We love active lifestyles here and Nickolai fits the bill.
His rugged look and kind attitude
is a force to be reckoned with and we hope to see him again in the near future.
Nickolai tends to his balls as he continues to show off his goods for all to see.
He strokes his cock slowly and passionately as he builds up those balls.
He's most comfortable lying on the bed legs spread out as he gets closer to his climax and with only a few more tugs of that hard cock he finally shoots his creamy load all over his chest.